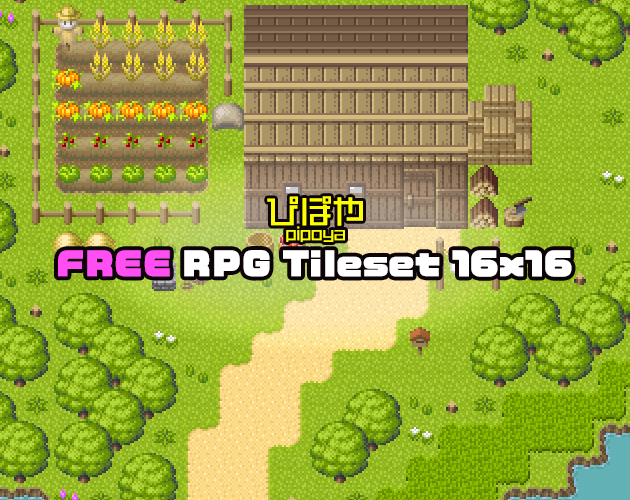 FREE RPG Tileset 16x16
A downloadable asset pack
PIPOYA FREE RPG TILESET 16x16 Pixel
I hope it will be useful for the game you are making.
Fang Auto Tile - Asset Store
This free asset is useful for Unity.
"[A]_type1" is compatible.
- Outdoors & Indoors & Dungeon
- Chip size 16x16 pixel
- png
Some sample images contain modified or obsolete parts.
License
- For commercial or personal use.
- Use and edit freely.
- Not redistribute or resell this assets.
- It can be used for game development and other productions.

Here is another tileset that I made.
Download
Click download now to get access to the following files:
Pipoya RPG Tileset 16x16.zip
630 kB
Comments
Log in with itch.io to leave a comment.
Very nice tileset.

What about the sprites that can be seen in the example screen shots? They look a lot like your 32x32 characters but I'd assume they wouldn't fit well with these 16x16 tiles?

Have you made 16x16 sprites to fit this tileset in the past that are available somewhere?

Thank you.
Thank you for your comment.
The character sprites in the screenshot were not created by me.
This character sprite was generated by a different software package that comes with the "WOLF RPG Editor" game development software.
An English version is also available.
WRPGE English Download | Widderune
https://widderune.wixsite.com/widderune/wolf-rpg-editor-english
The "Graphic Synthesizer" included in the Full Package is the software.
The Japanese version of the Terms of Service now allows character sprites created in the Graphic Synthesizer to be used outside of the WOLF RPG Editor.
The English version probably has the same terms and conditions, but I'm not sure of the details.
Aha! They're from WOLF editor, I thought they looked a little familiar. Thank you for pointing me in the right direction~!
This is an amazing asset! The tileset works fantastic with Godot autotile. Making a vivid world is effortless because of your beautiful work. Thank you so much for your generosity.
Thank you for your comment!
I was just interested in Gobot, so I'm surprised and happy with the news.
And I'm glad that I can help the world you make.
This pack is lovely; as someone learning to work with tilesets for the first time its nice to have a robust set of sprites to play around with!
Thank you for your comment!
I'm glad to hear that!
This is made for ease of use, so please make use of it.

I've been looking for such a pack for a long time and it's very nice.
Very nice and complete set, thank you!

Question, though: "Can be used other than game development" does that mean the graphics could be used in other products, like t-shirts, for example?

Thank you!
Yes, you can draw it as an illustration and print it on a T-shirt or use it to design a website.
What are the differences (aside from size) between this pack and the other?
Thank you for your comment!
This pack was made first and is a complete set.
The other pack still doesn't have "Dungeon", "Snow", "Destruction", "Fog", "Door Animation" and "Effect".
Are you planning on releasing these in the future?